Gorilla Glue #1: The Latest Knock-Out Cannabis Strain By Zamnesia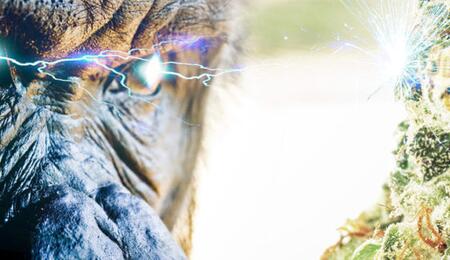 What do you get when you cross Chem's Sister, Chocolate Diesel, and Sour Dubb cannabis varieties? A new, extremely powerful cannabis strain known as Gorilla Glue #1.
This strain is the twisted sister of the infamous Gorilla Glue #4, an extremely potent cannabis strain that took over the spotlight in 2014 after winning numerous High Times awards. Gorilla Glue #1 is an equally powerful phenotype that takes the same genetics used to breed Gorilla Glue #4 and pushes them to the next level. The end result? An incredible strain loved by both smokers and cultivators for its high yields and extremely potent buds. This strain, now available from Zamnesia Seeds, utilizes a special Gorilla Glue phenotype that has been expertly bred and stabilized to create a robust, reliable new strain. Whether you're looking for heavier harvests or an excellent smoke, Gorilla Glue #1 will tick all the right boxes. Below we'll take a closer look at this strain and how it's been optimized with both users and growers in mind. Once you're done reading, head on over to the Zamnesia Seed Shop to order your own batch of seeds delivered to your door today.
GROW CHARACTERISTICS
Gorilla Glue #1 is the perfect strain for growers looking for heavy harvests. These plants grow short and bushy, typical of traditional indica strains. The plants perform well in both indoor and outdoor environments and tend to plow through their vegetative phases, quickly developing thick, tightly spaced branches with short internodes. Closer to harvest, the branches of these plants get heavily loaded with thick, dense buds. Resin production is super high and, within just about 60 days, you'll be harvesting some thick, dense indica-style buds. Gorilla Glue #1 is a very stable and resistant strain, making it ideal for both novice and advanced growers. Just make sure to optimize airflow in your grow space and keep temperatures relatively low. Like other dense cannabis varieties, Gorilla Glue #1 can be prone to mould simply because it grows so compactly.
BUD CHARACTERISTICS
Zamnesia's Gorilla Glue #1 is treasured for producing super potent buds. Expect your plants to produce dense and heavy nuggets typical of indica cannabis varieties. These buds will boast a very pungent aroma with a complex mix of sweet pine and earthy notes, and a thick layer of frosty trichomes.
GORILLA GLUE #1 EFFECTS
Whether you choose to smoke it, vape it or eat it, you'll be impressed by Gorilla Glue's potent effects. Clocking in consistently with THC concentrations of 25% and over, this strain is not for the faint-hearted. Expect to be blown away by heavy sedative effects and even a bit of couchlock, depending on your tolerance. If you're a medical user, we recommend using this strain at nighttime for instant pain-relief and to combat restlessness or insomnia.
GET GORILLA GLUE #1 TODAY
Keen to grow this exciting new cannabis variety for yourself and produce huge harvests of bud so potent it could knock out King Kong? Visit
www.zamnesia.com
and order your personal batch of
Gorilla Glue #1 seeds
today.