Sen. Tina Smith Introduces Federal Bill to Legalize Marijuana Nationwide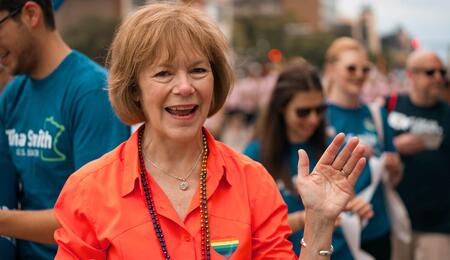 U.S. Senator Tina Smith of Minnesota has proposed a bill to legalize cannabis for recreational use nationwide, officials announced Aug.3.
Senator Smith introduced the Substance Regulation and Safety Act of 2020 bill that aims to remove cannabis from the nation's list of controlled illegal substances and ensure similar regulation measures to those of tobacco and alcohol. The legislation aims to put racially sensitive safeguards in place to combat marijuana use by people under 21. It would also grant the FDA the authority to regulate cannabis, including how it's labeled to how it's being advertised. According to Senator Smith, the federal prohibition of cannabis is an unsuccessful policy which only adds to the overwhelming confinement and racially-biased over-policing of people of color. 'It is time to end that policy," said Sen. Smith in a statement, "In addition to addressing the harmful and racist legacy of the War on Drugs by passing bills like Senator Harris' Marijuana Opportunity Reinvestment and Expungement (MORE) Act, we must address marijuana legalization in a manner that ensures that cannabis and cannabis products are safe, regulated, and well-researched."
The legislation would also promote the safety and quality control of cannabis crops and require regulations to govern the safe import and export of cannabis materials. Ultimately, it would also lead to creating a national strategy to combat the use and abuse of cannabis by youth, according to the
official release
. The bill requires the U.S. Department of Health and Human Services (HHS) to establish a national research institute to measure the benefits and risks of cannabis, and the U.S. Department of Agriculture to impose quality control standards and mandate that the Department of Transportation study methods for detecting THC-impaired driving. This is not the first time a Minnesota lawmaker has proposed similar legislation. The state democratic lawmakers have advocated the
recreational cannabis
bill for the past couple of years. The bill was reintroduced in May, after failing in a Republican-controlled committee back in 2019.
According to the state lawmakers, Minnesota is the eight worst U.S. state in terms of racial injustice in cannabis arrests. A report issued by the
American Civil Liberties Union (ACLU)
shows that African Americans who live in Minnesota end up jailed way more often than White Americans, in spite of the comparable rates of recreational cannabis use. Senator Smith has been in Congress since 2018 and has been actively advocating for federal legalization of marijuana. She has signed onto various pieces of cannabis reform legislation as a cosponsor and attached her name to legislation to protect banks that work with marijuana business from being penalized by federal regulators. Sen. Smith remarked that marijuana had been legalized for medical and/or recreational purposes in 42 states and Washington, D.C. In this context, the new bill should reinforce and build on legislation that is already there.
See our recap 2020
to find out exact information, state by state, where marijuana is legal in the U.S. for both medical and/or recreational use.
Cover photo: Senator Tina Smith at Twin Cities Pride Parade in Minnesota, 2018. Photo credit: Tony Webster, CC BY 2.0